Title:
The Retribution of Mara Dyer
Author:
Michelle Hodkin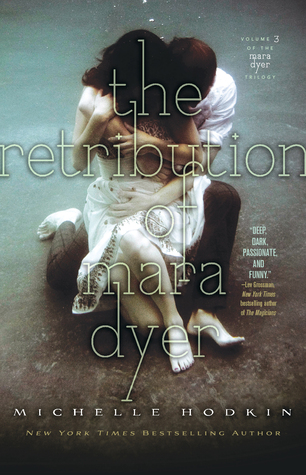 Publisher:
Simon & Schuster
Published:
November 4th 2014
Pages:
470
Goodreads Synopsis:

Mara Dyer wants to believe there's more to the lies she's been told. There is.

She doesn't stop to think about where her quest for the truth might lead. She should.

She never had to imagine how far she would go for vengeance. She will now.

Loyalties are betrayed, guilt and innocence tangle, and fate and chance collide in this shocking conclusion to Mara Dyer's story.

Retribution has arrived.
The third and final book in a trilogy is always my least favourite and this is still true for this series, however, it is probably one of my favourite final books, plot wise. I just love the story, its so unique and so different to the usual superhero stories. I never felt bored by the story as it was action packed throughout. However, I did have quite a few problems with this book, which really affected the rating I gave it.
One problem I had with this book was the new P.O.V near the end of the book.For the majority of the book there is only one P.O.V. which is Mara's, however, towards the conclusion a second P.O.V. is incorporated, a male voice. I found it really hard to differentiate between the two and kept having to go back to the start of each chapter to figure out which character was speaking. I wouldn't have had a problem with the new P.O.V. if it was effective, but I did not find the voice of the male character to be very believable as it was much too similar to Mara's. This was only a minor problem I had with the book and it didn't take too much from the story.
My main problem with this book, however, was the fact that this was not a satisfying conclusion. So many questions were left unanswered. For example, one character who was present for the majority of the book, just upped and left at one stage and there was no follow up or any other mention of the character. I don't understand the point of this character in the story. Why have this character the whole way through the story, have her dramatically leave, with no explanation of where she is going, and then not follow up on what happened her? I was sure that something awful would happen her but she just disappeared from the story as if Hodkin forgot all about her. The role of Abel Lukumi in this book was also questionable. There was some explanation of the Abel from Mara's grandmothers time but no real explanation as to what he was. He had no role at all in the present in this story except for a brief sighting by Mara. There were several hints to him but no real firm conclusion to his character. Everything felt a little unfinished. There was, also, no indication as to what the characters were going to do after the ending of the story. It was all left very open and I was sure there must be another book in the series only to find it this was only a trilogy.
While I did love the story I just wish everything was wrapped up a bit better. This book just left me with more questions than answers and that's why it received 3.5 stars.
I would still highly recommend this series as it is by far one of my favourites.