To play along, just answer the following three questions:
1. What are you currently reading?
2. What did you recently finish reading?
3. What do you think you will read next?
1. What are you currently reading?
Never Fade by Alexandra Bracken
Ruby never asked for the abilities that almost cost her her life. Now she must call upon them on a daily basis, leading dangerous missions to bring down a corrupt government and breaking into the minds of her enemies. Other kids in the Children's League call Ruby "Leader", but she knows what she really is: a monster. When Ruby is entrusted with an explosive secret, she must embark on her most dangerous mission yet: leaving the Children's League behind. Crucial information about the disease that killed most of America's children—and turned Ruby and the others who lived into feared and hated outcasts—has survived every attempt to destroy it. But the truth is only saved in one place: a flashdrive in the hands of Liam Stewart, the boy Ruby once believed was her future—and who now wouldn't recognize her. As Ruby sets out across a desperate, lawless country to find Liam—and answers about the catastrophe that has ripped both her life and America apart—she is torn between old friends and the promise she made to serve the League. Ruby will do anything to protect the people she loves. But what if winning the war means losing herself? (Goodreads Synopsis)
I am about 60% of the way through this book and I have loved it from the very first page. This book is just WOW. I have so many feelings rushing through me as I read it and that's when I know a book has me hooked. I am emotionally invested in all the characters and can't wait to see how the story ends.
2. What did you recently finish?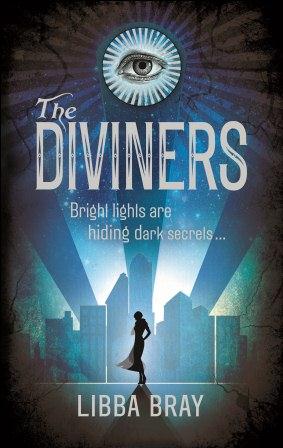 The Diviners by Libba Bray
Evie O'Neill has been exiled from her boring old hometown and shipped off to the bustling streets of New York City—and she is pos-i-tute-ly ecstatic. It's 1926, and New York is filled with speakeasies, Ziegfeld girls, and rakish pickpockets. The only catch is that she has to live with her uncle Will and his unhealthy obsession with the occult. Evie worries he'll discover her darkest secret: a supernatural power that has only brought her trouble so far. But when the police find a murdered girl branded with a cryptic symbol and Will is called to the scene, Evie realizes her gift could help catch a serial killer. As Evie jumps headlong into a dance with a murderer, other stories unfold in the city that never sleeps. A young man named Memphis is caught between two worlds. A chorus girl named Theta is running from her past. A student named Jericho hides a shocking secret. And unknown to all, something dark and evil has awakened.(Goodreads Synopsis)

I gave this book 3.5 stars. I just did not love this book. The characters were questionable, Evie was entertaining but incredibly selfish, Jericho was the handsome male with a dark secret yet still happened to be the most boring character, one of my favourite characters actually happened to be Sam Lloyd, he was funny, entertaining and cheeky. What I liked about the book was that it was set in the 1920s, one of favourite eras. The book was very different from anything I ever read but I just was not emotionally invested in this one I am afraid.
3. What do you think you will read next?
The Well of Ascension by Branden Sanderson
The Goodreads synopsis has a spoiler to the first book in it so I don't want to ruin the series for anyone who hasn't read it. This is the second book in The Mistborn Triology and here is the Goodreads synopsis for the first book (A thousand years ago evil came to the land. A dark lord rules through the aristocratic families and ordinary folk labor as slaves in volcanic ash fields. A troublemaker arrives. A rumored revolt depends on an untrustworthy criminal and a young girl who must master Allomancy, metal magic.
The first book in this series was one of my all time favourite books and has really reignited my love for the fantasy genre. I just picked up the book today and I can't wait to start reading it. I f you haven't read the first book yet I highly recommend it. While it isn't technically classed as a YA book I do think it is suitable for those who enjoy YA. If you are a particularly young YA reader I would not recommend it, however, as there is plenty of violence in it. If you are looking for a book with a strong romance in the story this will also not be your cuppa tea.
If you have also taken part in this weeks meme, leave a link in the comments below and I would be happy to check yours out :)