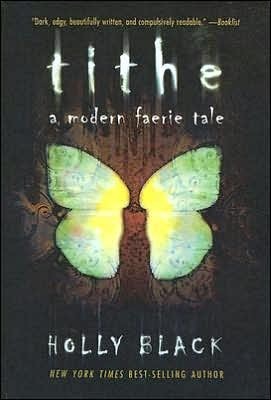 Title: Tithe
Author: Holly Black
Publisher:
Simon Pulse
Published: April 1st 2004
Pages: 331
Rating: 2.5 Stars
Goodreads Synopsis:
Sixteen-year-old Kaye is a modern nomad. Fierce and independent, she travels from city to city with her mother's rock band until an ominous attack forces Kaye back to her childhood home.
There, amid the industrial, blue-collar New Jersey backdrop, Kaye soon finds herself an unwilling pawn in an ancient power struggle between two rival faerie kingdoms - a struggle that could very well mean her death.
I wanted to like this, I really did. I loved Holly Black's The Coldest Girl in Coldtown, I mean LOVED it. Her writing style, characters and plot were so refreshing and everything I wanted from a book. So, I guess you could say I had really high hopes for this book, like, really high. Unfortunately, I didn't like this book all that much. Firstly, I will talk about what I did like. For one, the cover, it's so pretty, but yes do not judge a book by its cover. I also really enjoyed some of the characters in this story, particularly, Kaye. She wasn't your typical YA female character, there was something much more real and gritty about Kaye. The characters in many of the books I read don't really reflect the teenagers of today, Kaye, however, does. She likes to hang out with her friends, she goes to parties, she drinks, she smokes (not all teenagers do these things but lets face quite a few do). She is very different to the lead characters in most YA and in that sense was quite refreshing to read. , also enjoyed how the story really reminded me of my youth, this kind of story would have been something I would have read and loved as a child - minus the twisted, gorey, dark aspects!
I feel like this story was quite childish, but at the same time not at all child-friendly. Ok, let me explain...Kaye is a normal enough girl, with not too many friends but she does however have fae friends, three little faeries who visit her throughout her childhood. She then meets a mysterious knight who she falls hopelessly in love with (yes, there is insta-love, very disappointed). However, mixed in with this story are a lot of dark details. A knight with an iron band embedded in his forehead with a cloak of thorns who ravages a human boy. Little faeries being pulled apart by monstrous fae, and several more deaths in between. I personally would not have had a problem with the story's darker elements, my problem lay in the more middle-grade like plotline which I didn't find all that interesting.
It was, however, the inst-love that ruined it altogether for me. It is the one thing I hate in a story. I also wasn't too fond of the character Roiben and had no real interest in him or the romance. The love connection betweeen Kaye and Roiben just wasn't believable, why did Kaye love Roiben? It seems to me it was because she thought he was hot and why Roiben loved Kaye, I have no idea.
In saying all of this I did read the entire book so it wasn't completely awfully it just wasn't what I hoped it would be.