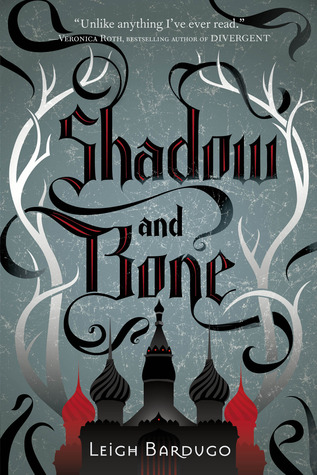 Shadow and Bone by Leigh Bardugo

Publisher: Henry Holt and Co.
Published: June 5th 2012
Pages: 358
Book blurb:

The Shadow Fold, a swathe of impenetrable darkness, crawling with monsters that feast on human flesh, is slowly destroying the once-great nation of Ravka.

Alina, a pale, lonely orphan, discovers a unique power that thrusts her into the lavish world of the kingdom's magical elite—the Grisha. Could she be the key to unravelling the dark fabric of the Shadow Fold and setting Ravka free?

The Darkling, a creature of seductive charm and terrifying power, leader of the Grisha. If Alina is to fulfill her destiny, she must discover how to unlock her gift and face up to her dangerous attraction to him.

But what of Mal, Alina's childhood best friend? As Alina contemplates her dazzling new future, why can't she ever quite forget him?
Now, where to start my review of this book. So many people have absolutely loved this book and it has countless gushing reviews on Goodreads, however, for me this book was incredibly disappointing. In saying that, I did not hate this book, nor was I bored by the story and so I finished the book in no time. However, there are so many aspects to this book that disappointed me. I am first going to begin by telling you what made me pick this book up in the first place. One of the first places I heard this book mentioned was on Regan's youtube channel (PeruseProject). She showed the book during a haul, describing it as a story based around magic and the Russian culture.As I had not yet read a book involving Russian elements I was intrigued and wanted to check the book out on Goodreads. This seemed to be a love or hate book for most, but mostly love and so I went with the hype and picked up the book. Unfortunately with hype comes high expectations and for me, the book just did not live up to them. There were several aspects to the story that bothered me and these will be outlined below.
Firstly, I found the link to Russian culture confusing. The only way I saw this book to have Russian elements was in the names of the people and places. The world building was seriously lacking in this story. Before picking up the book I imagined the setting to be a medieval Russia (and here is where I have to admit my knowledge on that subject is seriously lacking), however, for me, the setting was non-existent, the only area described in detail being the shadow fold and funnily enough this is the area I had most trouble with imagining. Was the Shadow Fold over sea, or was it sand? I was sure the sea was mentioned and also a boat but then they mentioned crossing the sands and I just lost all hope of understanding. Often in books I tend to imagine aspects of the book different to how it was intended but it is very rare for me to not to be able to conjure up any image at all, and unfortunately this happened me a great deal in this book. When Mal and Alina were living in the Duke's house I imagined the world to be set in the Victorian Era (yes, England). Then, when the two characters are in the army, I imagined the time period to be more medieval. This jumped again when Alina went to the palace, which seemed to be a far more modern setting. Can you tell I was a little confused by this book? I also wish that Bardugo had explained the magic in the story. There is little explanation of how Alina comes to wield her power and become more powerful and no explanation is given to explain why certain people are gifted with magic and where the magic comes from (before reading Brandon Sanderson's The Final Empire I may not have seen this as a problem).
So, the confusion and lack of world building was a problem and so too was my hatred for the protagonist. Characters such as Genya, the Darkling and Mal would have been far better protagonists as they had much more depth and intrigue to them then Alina. She is obsessed with how she looks throughout the novel and comments on the looks of others constantly, below are just two examples of this:
" I had barely unlocked the door when it flew open and a tall girl pushed past me surveying the room and then me with a critical eye. She was easily the most beautiful girl I had ever seen."
"I'd learnt to avoid mirrors. They never seemed to show me what I wanted to see. But the girl standing next to Genya in the glass was a stranger. She had rosy cheeks and shiny hair and...a shape. I could have stared at her for hours."
(The words "Get over yourself" come to mind here.)
If Bardugo had concentrated more on Alina honing her abilities and going into detail about her training, rather then discussing how much she now loved to wear makeup and dresses, I feel Alina's character may have had more substance.
One thing I was incredibly grateful for was the fact that the romance in the story did not overshadow the plot. Insta-love and romance filled plotlines are two of my biggest pet peeves when it comes to YA fiction. The romance in this story was much more believable and even had a twist to it which was unexpected and I really did enjoy that.
I seem to have completely slated this book and I did not mean to do so. I find that I may be being slightly unfair. While reading the book I enjoyed the story, I didnt by any means love it, but I wanted to continue reading, unlike some books which I have to force myself to finish. However, following this book I decided to pick up Brandon Sanderson's "The Final Empire" and WOW. This was one of my all-time favourite books with amazing characters and world-building which made me look at Shadow and Bone with a far more critical eye.
If you like the premise of the story I would encourage you to pick up the book and read it for yourself . This book was not for me but was still an enjoyable read and so it gets:
RATING: 2.5 STARS
If you yourself have read this book, what was your opinion? Also, if you have a review on this book leave a link in the comments and I will be sure to check it out :)