Title:
In the Afterlight
Author:
Alexandra Bracken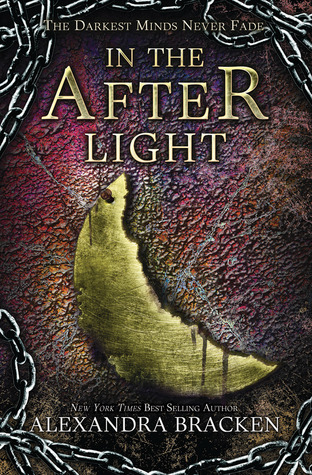 Publisher:
Disney-Hyperion
Published:
October 28th 2014
Pages:
535
Goodreads Synopsis:

Ruby can't look back. Fractured by an unbearable loss, she and the kids who survived the government's attack on Los Angeles travel north to regroup. With them is a prisoner: Clancy Gray, son of the president, and one of the few people Ruby has encountered with abilities like hers. Only Ruby has any power over him, and just one slip could lead to Clancy wreaking havoc on their minds.

They are armed only with a volatile secret: proof of a government conspiracy to cover up the real cause of IAAN, the disease that has killed most of America's children and left Ruby and others like her with powers the government will kill to keep contained. But internal strife may destroy their only chance to free the "rehabilitation camps" housing thousands of other Psi kids.

Meanwhile, reunited with Liam, the boy she would-and did-sacrifice everything for to keep alive, Ruby must face the painful repercussions of having tampered with his memories of her. She turns to Cole, his older brother, to provide the intense training she knows she will need to take down Gray and the government. But Cole has demons of his own, and one fatal mistake may be the spark that sets the world on fire.
I really enjoyed this book and had it finished in under 24 hours. However, this was my least favourite book in the series (the third and final book nearly always is for me). The story didn't have me as gripped as the other two and the main reason for this is the lack of action in comparison with The Darkest Minds and Never Fade. A great deal of the story occurs in the one place - headquarters - and this got a bit tedious for me. In the other two books there was a lot of moving around, and you were always fearful that they might get caught at any second, making it much more of a thrilling read. With all of the characters confined to the one place for the majority of the book there was very little room for suspense.
My favourite character by far in this book was Cole which is probably not very obvious if you have read the book. Like most of the characters in the story Cole is an incredibly flawed character possessing powers which tend to have more control over him than he has over them. We glimpse into Cole's past and see a sliver of his upbringing, an explanation for his temper. As Cole was such an imporatnt character in this book I wish there had been more of a backstory, more of an explanation into his and Liam's tumultuous relationship or even an insight into Liam and Cole when they both worked with the Children's League before Ruby. There was no resolution for Cole's character, especially not between him and Liam. Cole's demons were never faced and as he was my favourite character I wish there had been more of a conclusion to his story (there is a conclusion to Cole, just not one that answered my questions).
There lies my major problem with this story: unanswered questions. I had more questions finishing this story than I had answers.
I feel like there was wasn't enough of a conclusion in this book. Things weren't wrapped up well enough for me and I feel like more time could have been spent explaining Cole's rage (like Clancy's was explained) or his relationship with his brother or detailing the liberation of all the camps or what future lay ahead of Ruby, Liam, Chubs and Zu - a glimpse into the future perhaps similar to Harry Potter. More time could have been spent on one or more of these aspects rather than such time spent detailing the events in the headquarters. However, in saying this I did like how being stuck in the headquarters made the reader feel the frustration and annoyance of the characters in the book.
I gave this book 4 stars as I really loved the story and really loved the character Cole - loving a character in a story as much as I loved Cole automatically raises the books rating.