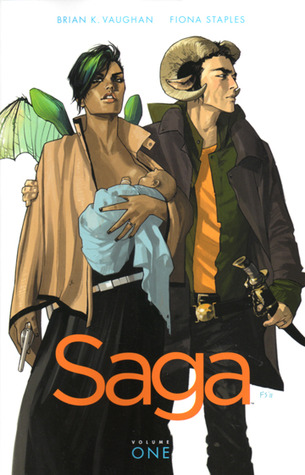 Title: Saga (Volume #1)
Author: Brian K. Vaughan
Publisher: Image Comics
Published: October 23rd 2012
Pages: 160
Rating: 4.5 Stars
Goodreads Synopsis:
When two soldiers from opposite sides of a never-ending galactic war fall in love, they risk everything to bring a fragile new life into a dangerous old universe.
From New York Times bestselling writer Brian K. Vaughan (Y: The Last Man, Ex Machina) and critically acclaimed artist Fiona Staples (Mystery Society, North 40), Saga is the sweeping tale of one young family fighting to find their place in the worlds. Fantasy and science fiction are wed like never before in this sexy, subversive drama for adults.
This specially priced volume collects the first six issues of the smash-hit series The Onion A.V. Club calls "the emotional epic Hollywood wishes it could make."
This is my first ever graphic novel and WOW. How have I not read a graphic novel before? I love art and I love reading, it is only logical that I would enjoy graphic novels.
This is a really fun read. I particularly enjoyed the part where Alana says "This is what I get for marrying a vegetarian. Even the plants want to eat us". I happen to be a vegetarian so I got a good giggle out of this.
This is the perfect read if you have been bogged down with some intense reads and just want something quick to read, but still fun and exciting.
I adore Marko and think he is such a sweetheart. He also seems to be totally kick-ass, which is great. Both him and Alana have great banter and are incredibly sarcastic, which I love.
I also really enjoyed how the story was told. There was a mixture of Marko and Alana's dialogue, interwoven with Hazel's narration, the present and the future coming together.
And we can't possibly talk about this novel without discussing the art. Wow. It is amazing. I found myself just staring at the pages for ages trying to take it all in.
I can't wait to get volume two and pick up where I left off.