Author:
Rick Yancey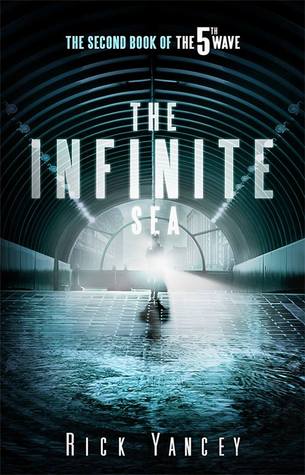 Publisher:
Putnam Juvenile
Published:
September 6th 2014
Pages:
320

Goodreads Synopsis:

How do you rid the Earth of seven billion humans? Rid the humans of their humanity.

Surviving the first four waves was nearly impossible. Now Cassie Sullivan finds herself in a new world, a world in which the fundamental trust that binds us together is gone. As the 5th Wave rolls across the landscape, Cassie, Ben, and Ringer are forced to confront the Others' ultimate goal: the extermination of the human race.

Cassie and her friends haven't seen the depths to which the Others will sink, nor have the Others seen the heights to which humanity will rise, in the ultimate battle between life and death, hope and despair, love and hate.
TOO MUCH LOVE FOR THIS TRILOGY!
This was one of those books that once I got into it I just could not put it down. The same can be said for the first book in this trilogy, The 5th Wave. I found the beginning of the story to be a little slow but the pace picked up pretty quickly from there, and because it wasn't an incredibly long book (unfortunately) it didn't drag for me, hence why this didn't affect my rating of the book.
When I realised that I would be reading some of (turns out a huge chunk of) the book in Ringer's P.O.V. I was not happy as I really did not like her character in the 5th Wave. By the end of the book, however, my love for her character is up there with Cassie who I really admire. I admired Cassie in the 5th Wave much more than Ringer because she was a more realistic female character. She was not the all powerful bad-ass that could kill anyone and who was an amazing fighter, but, all the same, she still fought and never gave up, even though she was just a normal girl. I still admire that about her in the Infinite Sea. Ringer, is very different from Cassie however. She is NOT your typical girl. She is pretty much the definition of bad-ass, she has perfect shooting aim and is a real fighter. She holds back her emotions keeping them in check unlike Cassie who really tends to wear her heart on her sleeve. She is, also, a realist and that's why I love her character in this book. She thinks everything through, understands the consequences and doesn't jump headfirst into danger; she weighs the "risk" at all times. Her final chapter was, surprisingly, my favourite chapter in this book. I don't want to go into too much but the interaction between her and Razor was fantastic, the story went somewhere I was not expecting!
I was telling my sister that she had to read this series and explained that a man wrote it and her response was "oh so the girl characters aren't totally pathetic then?". That is something I have a big problem with when reading female characters written by women (not all women mind you and some male authors also have a tendency to do this). They often make their female characters, pathetic, stereotypical images of femininity, or more often than not in an attempt to make their characters more "bad ass", shall we say, they make them the total opposite - dress hating, cold-hearted (but not really because of course their hearts will be melted by the boy that they shouldn't love but do and that boy, of course, goes from bad guy to doting mush in his love for the girl!), basically a girl who does not conform to the stereotypical image of femininity but likened more to male characteristics (because of course in an attempt to stand up for feminism you have to bash femininity!!). So on the one hand you have the cold hearted bad-ass (think Caelena from Throne of Glass - all arrogance and self-righteousness, heart melted by the man she should not be with) and then you have the pathetic damsel-in-distress, unsurprisingly saved by her knight in shining armour, more than likely someone she should not be with (think Bella from Twilight). I have such major problems with these types of female characters and these seem to be the mold for all YA characters. So when a book comes along that challenges these type casts, I am all for it.
In relation to this trilogy there is the whole "kinda" romance going on between Evan and Cassie, however, it isn't your typical YA romance exactly. There is an explanation to why Evan could possibly have feelings for Cassie even though he is an alien which makes the romance much more realistic, but I can't go into that as it will spoil part of the book. Also, I didn't really have a problem with this romance because it didn't detract from the main plot and wasn't the focal point of the story which is another gripe I have with YA fiction.
My only real problem with this book is that I wish it was longer and I wish I didn't have to wait so long for the next book!