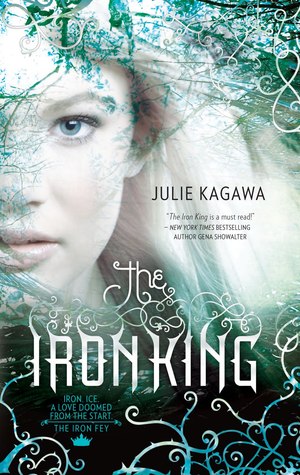 Title: The Iron King
Author: Julie Kagawa
Publisher:
Harlequin Teen
Published: February 1st 2010
Pages: 384
Rating: 3.5 Stars
Goodreads Synopsis:
Something has always felt slightly off in Meghan's life, ever since her father disappeared before her eyes when she was six. She has never quite fit in at school or at home.
When a dark stranger begins watching her from afar, and her prankster best friend becomes strangely protective of her, Meghan senses that everything she's known is about to change.
But she could never have guessed the truth - that she is the daughter of a mythical faery king and is a pawn in a deadly war. Now Meghan will learn just how far she'll go to save someone she cares about, to stop a mysterious evil, no faery creature dare face; and to find love with a young prince who might rather see her dead than let her touch his icy heart."
I was quite surprised by how much I liked this book. Prior to reading this book I had read Holly Black's Tithe. I love Holly Black but I was really disappointed with the book and it pretty much turned me off faery books. This was the first Fay story I had read in a long time, so instead of giving up on them I decided to pick up the only other Fay story on my shelf: The Iron King. I am really glad that I did as I found this to be an enjoyable read. This wouldn't be one of my favourite books but if you liked The Chronicles of Narnia stories, you should enjoy this book too.
There were two books that came to mind while I was reading this story, the first has already been mentioned, The Chronicles of Narnia, and also Alice in Wonderland. The character of Grimalkin the cat was very similar to the Cheshire cat in Alice in Wonderland.
The Fay in these stories are the darker more disturbing Faeries who play tricks and are devious and cold. The characters in this story are all well known Fay from faery legends such as Puck and Oberon. The research into Fay legend was really quite impressive and on point. I much prefer the more sinister Faeries of legends then the twinkling tinkerbell types.
The main female character in the story Meaghan was quite your typical YA character, she was unpopular, wore ugly clothes (why must all female YA characters wear combat trousers?) and had one friend. I thought I would really hate her character but as the book went on she started to grow on me. One thing that did really bother me about her is the fact that she jumps into danger without any thought for herself or those around her. Yes, ok, her brother is in danger and she is trying to help him, but there is no need to put everyone else in danger in order to save him. She puts herself into debt with a new faery every five minutes when she knows how bad this is. *Face-palm* every time she agreed to a deal.
My favourite character by far was Puck. One word for this guy is: hilarious. Sarcasm is my thing you see, I think it may be an Irish thing actually but sarcasm is how I communicate with my nearest and dearest. Puck is the definition of sarcasm.
I also really like the character of Ash up until a certain part. This was the part where I fell in love with Ash:
"War?...What will happen then?" Ash stepped closer. His fingers came up to brush the hair from my face, sending an electric shock through me from my spine to my toes. His cool breath tickled my ears as he leaned in."I'll kill you", he whispered...
But then of course there is a romance and he becomes all soppy. I liked him again at the end though so it's all good.
Seeming as I have just touched on the romance I may as well continue. Ugh, romance...if you don't know already, I am not a huge fan, especially not the kind of romance where the once brooding bad boy turns good for the totally plain and ordinary female main character. The romance was not completely like this and there is a slight love triangle but because the love story wasn't the focal point, I really didn't mind it too much, especially when the love interest says he will kill you, that makes things a little more interesting.
The plot itself wasn't anything too complicated or complex but it was enjoyable enough. This is a much lighter and fluffier read than Tithe which was quite dark, I think that may be what this was lacking, a little more dark and twisted goodness.
All-in-all this was an enjoyable read with some interesting characters and as I have heard that the books only get better in this series I will be continuing on with the second book.