Sheila over at Book Journey is hosting, for the second year in a row now, an event called the First Book of the Year. In order to participate in this event simply take a photo with the first book you will/are reading in the new year. Sheila has made a collage of all the photos sent into her which you can find here.
While I didn't have this ready before the meme was posted I still decided to do this one as it sounded like a fun post to start off the year. Without further ado here is me and my first book of 2015:
Please excuse the poor quality webcam photo (and also the fact it is back-to-front).
I am currently reading The Iron King by Julia Kagawa
Title: The Iron King
Author: Julie Kagawa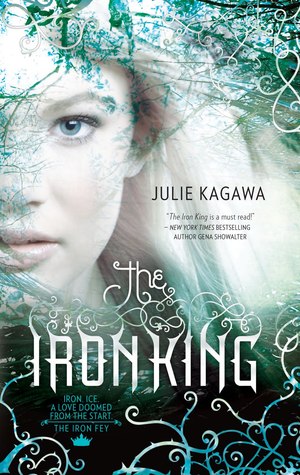 Publisher: Harlequin Teen
Published: February 1st 2010
Pages: 384
Goodreads Synopsis:
Meghan Chase has a secret destiny; one she could never have imagined.
Something has always felt slightly off in Meghan's life, ever since her father disappeared before her eyes when she was six. She has never quite fit in at school or at home.
When a dark stranger begins watching her from afar, and her prankster best friend becomes strangely protective of her, Meghan senses that everything she's known is about to change.
But she could never have guessed the truth - that she is the daughter of a mythical faery king and is a pawn in a deadly war. Now Meghan will learn just how far she'll go to save someone she cares about, to stop a mysterious evil, no faery creature dare face; and to find love with a young prince who might rather see her dead than let her touch his icy heart.
I never really planned to read this as my first book of 2015. I had had it on my shelf for so long and I had just read another Faery book prior to it, so I just decided I would pick this one up New Years Eve. I was disappointed with the other Faery book, Holly Black's Tithe, so I really wasn't expecting much from this book. In saying that I am really enjoying it at the moment. It is not my all time favourite but I do really like how reminiscent it is of The Chronicle of Narnia stories with a sprinkling of Alice in Wonderland.
Has anyone else read this series? I think I will definitely continue on with the series even though I am being to dislike the romantic pairing!
What was your first book of 2015? If you too have participated in this meme feel free to leave a link in the comments as I would love to check out your post.