Title: The Lightning Thief
Author:
Rick Riordan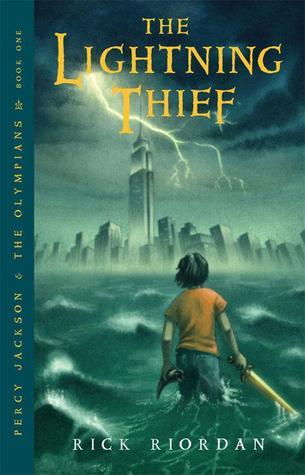 Publisher:
Disney Hyperion
Published:
March 1st 2006
Pages:
377
Goodreads Synopsis:

Percy Jackson is a good kid, but he can't seem to focus on his schoolwork or control his temper. And lately, being away at boarding school is only getting worse-Percy could have sworn his pre-algebra teacher turned into a monster and tried to kill him.

When Percy's mom finds out, she knows it's time that he knew the truth about where he came from, and that he go to the one place he'll be safe. She sends Percy to Camp Half Blood, a summer camp for demigods (on Long Island), where he learns that the father he never knew is Poseidon, God of the Sea.

Soon a mystery unfolds and together with his friends -- one a satyr and the other the demigod daughter of Athena -- Percy sets out on a quest across the United States to reach the gates of the Underworld (located in a recording studio in Hollywood) and prevent a catastrophic war between the gods.
This was a really fun read for me. I am so used to reading really heavy, intense stories so I really enjoyed this easy, fun, yet action packed read. I was quite worried that I would be really bored with this because 1. I had seen the film and really didn't like it all that much and 2. It is a book aimed at 9+ boys. Turns out I was very wrong. I had this book read in a couple of hours; I just couldn't put it down. This was a real fast paced story with back-to-back action scenes from beginning to end. The narrator, Percy, is a really likable character, he is loving, kind and a bit of a goofball. His side-kick Grover is even more hilarious and provides the perfect amount of comic relief. I am not Annabeth's biggest fan at the moment but I feel like she will grow on me as the series continues.
I can't really say much more about this book as I did watch the movie before reading the book. While I did notice some differences between the two, I was spoiled for the plot twist so I can't really say if I would have seen it coming or not. In saying that, when watching the film I wasn't really expected it, so I can only assume it would have been the same for the book.
Everyone and their mother seems to have read this series but I am really late on the bandwagon. I will definitely be continuing on with this series and highly recommend this series no matter what age you are (for reference I am 24!). One piece of advise I have is don't go into this expecting Harry Potter.
I think the reason I enjoyed this one so much is that I really didn't have very high expectations for it.