Title: The Winner's Curse
Author: Marie Rutkoski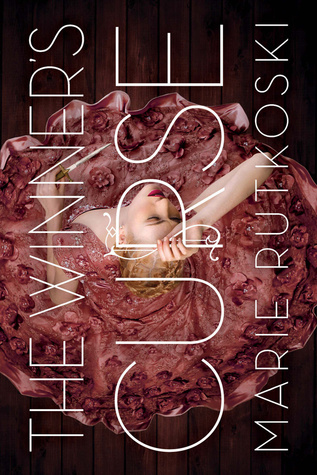 Publisher:
Farrar Straus Giroux
Published: March 4th 2014
Pages: 355
Goodreads Synopsis:
As a general's daughter in a vast empire that revels in war and enslaves those it conquers, seventeen-year-old Kestrel has two choices: she can join the military or get married. But Kestrel has other intentions.
One day, she is startled to find a kindred spirit in a young slave up for auction. Arin's eyes seem to defy everything and everyone. Following her instinct, Kestrel buys him—with unexpected consequences. It's not long before she has to hide her growing love for Arin.
But he, too, has a secret, and Kestrel quickly learns that the price she paid for a fellow human is much higher than she ever could have imagined.
Set in a richly imagined new world, The Winner's Curse by Marie Rutkoski is a story of deadly games where everything is at stake, and the gamble is whether you will keep your head or lose your heart.
This book has received so much hype in the book world that I just had to pick it up and check it out for myself. I guess you could put this book into the fantasy category, kind of, but meh for me I would just put it down as a romance. I have really high standards when it comes to fantasy stories, thanks in part to Brandon Sanderson's epic books, so fantasy books have a LOT to live up to. Recently, the YA fantasy I have been reading has just been so BLAH. Often times far too focused on the romance leaving the plot, well, non-existent really. Unfortunately, this book is lumped right in there with those such as Falling Kingdoms, Throne of Glass series and Shadow and Bone, all below average stories which focus more on the romance than an actually plot.
My main problem with this story is the lack of action. This book is a real slow burner, it took a REALLY long time to build up to the action which was all squashed into the last third of the book. When it did pick up, eventually, it was really good, but there just wasn't enough of it. I love the action scenes and wish there had been more throughout the story. What really ruined the plot for me though was the romance, which really was the focal point for this story. I find it hard to label this story fantasy as there is no magic, no fantastical elements to it whatsoever, I would be more inclined to label it a historical romance. Far more effort is put into setting up the romance between the two main characters Arin and Kestrel. The romance was a slow burner which is good right, because who links insta-love?
When the romance reached its peak, however, it did so pretty much completely out of the blue. There was no point where I thought, oh ya they are really falling in love here, there was absolutely no reason why they should. It just wasn't very believable, especially when Kestrel is the LEAST lovable person EVER.
Kestrel, ugh, so much HATE for her character. I really don't think you are meant to like her character though, after all she did buy a human being to keep as a slave, and, while she doesn't believe in the mistreatment of slaves, she is by no means a revolutionary. She is happy out to live her beautiful villa which once belonged to the Herrani who now must bow to her every whim. YA characters all have to have one attribute that they just excel at beyond everyone else and Kestrel is no exception to this. While I like that she wasn't the perfect fighter even though she has been trained to fight, she is an exceptional musician, something which is used to make her stand out from the other Valorians as they do not find music important. This is the aspect that was also used to tie Kestrel and Arin together, they both like music. So it's okay that Kestrel BOUGHT HIM, as long as she plays music all is forgiven.
My eyes will never truely be the same after this book with the amount of eye-rolling I did. I loved Arin's character at the beginning and that was what really pushed me through the first slow part of the story but the more he liked Kestrel the more pathetic he got. I say this in nearly every review now, but I am going to say it again...why oh why must the guy become a TOTAL IDIOT when he falls in love with the girl. I have said enough already, if you read the story you will know what I mean. Goodbye awesome, bad-ass Arin, hello soppy, idiot!
Now because I hate to end on such a sour note I will speak a bit about the aspects I liked in the book:
1. The world - now this was not the best world-building I have ever read but I did really enjoy the setting, think Ancient Greece with beautiful sprawling villas, horse drawn carriages and high-society parties.
2. The writing - Rutkoski is a really great writer when she isn't lengthily described Arin noting Kestrels opinions of him (this guy has to be an empath). This is one of the reason I want to pick up the second book.
3. Like I mentioned already, when the action got going it was really good and I did find myself devouring those pages, the problem here was that it just didn't last long enough and the ending was eye-roll worthy and far too rushed. Oops, I was meant to finish on a positive note.
What I will say is that I am not a lover of romance and lately I have realised that most YA fantasy stories are far more focused on the romance then building an action packed plot. This book has PLENTY of glowing reviews and I feel like the only one who was left disappointed by this book. On a happier not I have heard that the Winner's Crime is much better so I will continue on with this series and hopefully like the second book a lot more.
If you have read this book leave your thoughts in the comments below as I would love to know if I am the only one who didn't like this book.